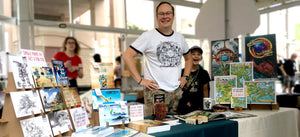 My First Convention Table
Conventions, festivals and fairs can be a great way to get your art and your products out there, for all to see. It also means presenting yourself to the public and your potential audience, which can feel very personal. You must be as professional as possible because, after all, you are there to sell something. So what is it people are actually buying?
Last Sunday, I tabled my first convention. It was a small local affair, nothing like the madness of larger events such as HalCon or giant cons like Gen Con or Comic-Con. Yet, I felt compelled to do my very best to make the most of it and to make a genuine and lasting impression. Join me this month, for a different type of journey, one where I learnt more about my city, my art and myself.
The event
The Dartmouth Comic Arts Festival (DCAF) took place on August 18th for the eighth consecutive year. It is an event organized by an amazing local comic book store called Strange Adventures. They can be found at two locations in the municipal region: one in the centre of Halifax and another in Dartmouth which is situated right on the other side of the harbour. From Dartmouth, Halifax can be accessed by two bridges. Neither of which have trolls but you have to pay a modest toll every time you cross. There is also an excellent ferry service that operates very frequently. No trolls there either and no leviathans have been spotted in the water in many a year.


DCAF takes place in the same building as the ferry terminal which brings a lot of through traffic every time the boat docks and leaves. The location is also used bi-weekly for a local farmers' market as well as all kinds of other fairs throughout the year. Everyone in the area knows that there is a big chance of being exposed to all kinds of merchants on their way to the terminal.

This year, DCAF accommodated 115 exhibitors including the Voyager's Workshop. That maybe doesn't seem like a small affair now after all. The main goal of the organizers is to promote local artists, creators and crafters. For me, it seemed like the perfect way to put myself out there in a very different way than I do online. It provided me with the ideal platform to start offering my products and services to the people around me, visitors who I could talk to and showcase my art in person.
Preparations
I had never tabled at a festival before this one. Fortunately, I benefited from the experience of my (many) comic-making friends and that proved a great help. Having followed their adventures at conventions in the past, mostly via social media and closed discussion groups, I had a better understanding of what to expect and what the biggest challenges would be. Early in my design career, I also had created exhibition stands and other promotional material for clients and the companies that employed me. Combining all this experience with my skills as a multidisciplinary designer brought me to create art & book displays that suited my needs for such an event.
Art selection
DCAF being a comic arts festival, I wanted to take this opportunity to sell my comics as well as fantasy storytelling art from the Voyager's Workshop. Creating comics and graphic novels has been a passion of mine since childhood, one that I have pursued assiduously in my spare time for 15 years and which has led me to self-publish four books.
Promoting my business was the number one objective, however. Therefore, I needed to be careful in selecting the right type of products to connect with my audience. I eventually opted for a tabletop role-playing centric assortment combined with some of the fantasy maps I created this year, including a fantastical representation of the Canadian Maritimes, both in poster and postcard formats.
Next to these, I put together a selection of my custom art items, all centred around the gaming group theme. This highlighted the uniqueness of my offerings and my ability to create custom emblems, logos and portraits which can be applied to a number of tailored products: t-shirts, embroidered polo shirts, caps, coasters, mugs, dice boxes and more! To emphasize my unique approach, I included the Voyager's Workshop media kit which is a hard cover book that explains and highlights the variety of products and services available.
Packing up
One of the many challenges of a con is getting your stuff to and fro. Having no idea of what to expect in terms of sales did not exactly help either; living close-by and owning a car did make it easier to manage. As you can imagine, I ended up bringing way too much but you learn by doing.
I managed to pack everything in two plastic totes. Thanks to the easy assembly process of my custom made cardboard displays and to the helping hands from my wife and kids, I was setup in no time.
How the day went
The general attendance at the festival was very good considering the time of year with some people being away on holiday. The weather was a mix of sun and cloudy skies with occasional light showers. This was a break from the great summer conditions of late; fitting weather to persuade visitors to come by rather than go to the beach. Come to think of it, it probably didn't make much of a difference, Maritimers have a great way of making do with what they have so natural elements don't usually hinder them much anyway.


The event started at 11 AM and went on until 5 PM. The place was very busy for the first 3 and a half hours, very quiet afterwards. Altogether, the attendance was similar to last year, from what I gathered. For a first time tabling, it went very well for me, with some expected disappointments.

Selling original comics as an artist who is a total unknown locally is always going to be tough. On top of that, I do not indulge in creating fan art of famous licenses such as DC, Marvel or any other for that matter. The time I allocate to drawing comics is limited enough that I don't want to spend it drawing others' intellectual property. My comics didn't sell well but I was mentally prepared for that.

My main objective was to get the word out about The Voyager's Workshop and to see how visitors reacted to the artwork on display. I took it to heart to stand by my table for the entire duration of the festival. Of course, I occasionally sat down for a couple of minutes at a time to drink or eat a snack but being at eye level with everyone else made a world of difference.

One of the reasons we decided to move to my wife's home province of Nova Scotia is that we connect with people here in a way that feels earnest to us. This part of Canada is by far not one of the richest in terms of resources and one can find more and better career opportunities out West. Yet, if you enjoy what it has to offer, there is a definite quality of life to be found here and many benefits. The easy-going and friendly nature of Nova Scotians is one of them, it's why we feel so at home here. With a couple of exceptions, I only saw smiles on visitors' faces for the whole day and I had some great discussions with many of them! 
There's no place like home
Having been visiting the Maritimes on a yearly basis for almost 20 years before settling in the Halifax region, I feel as though I have been one of them for just about as long. Creating a fantastical interpretation of this beautiful part of the world felt like an obvious choice. Actually illustrating it proved much more of a challenging undertaking but finally being able to put it in front of people's eyes and witness their reaction was all I needed to remind myself of the reasons of my career choice. In all aspects of my work, I strive to create designs and works of art that are meaningful to their audience. It becomes an exchange, a discussion, one you feel a part of and where everyone gets a chance to bring in their contribution to fill in the blanks.

The Fantasy Map of the Maritimes was definitely the big winner of the con, strictly from my own perspective. And whether this was true or not, a very fine gentleman who had a stand selling tea on the other side of the building came by to check it out and tell me there was a certain buzz going around the place about this map of mine. Either way, many festival goers were taken by the illustration and quite a few decided to take one, or its little postcard brother, home. This whimsical illustration combines local folklore and pure fantasy elements to create a unique cartographic representation of Nova Scotia, Prince Edward Island and New Brunswick. You can purchase a copy in a variety of sizes straight from my store, alongside other fantasy maps.
Highlights
I feel I want to thank everyone who came by to support all of us local artists. Over the course of the day, there were a number of encounters that stood out so these good people get a special mention. Here they are:

- A Japanese student with whom I had a long discussion about my work and how much she liked my unusual approach to fantasy art and how it was displayed.

- The very sweet older lady who bought a copy of Tales of Jerrik Books I&II and asked me to sign it.

- Two very cool cosplayers who had lots of questions. Questions are great, more people should ask them


- A mom with her kids and, more specifically, her 9 year old who is obsessed with drawing dragons. She seemed relieved to see there are grown-ups drawing dragons too!

- The guy with the bright green polo shirt with an embroidered Legend of Zelda logo on the chest. He stopped right in front of the Dicing Dragons poster and said: "Now, THAT is so awesome! I just need to get it!"

- A very friendly gentleman who bought a set of postcards. Like me, he had grown up playing D&D and other tabletop role-playing games and had now just started again after a 30 year break. So positive and enthusiastic, he was also very interested in the custom design items, especially the dice box and the idea of a gaming group logo.

- A guy in his late teens, early twenties, very energetic and super friendly, new to playing D&D. He told me all about how he got into the hobby just this year, about the character he plays and about their campaign. He promised to come back with some cash and get something. An hour later, he did!

- A teenage girl who was going around the con for a good long while, picking and choosing what she wanted, to make the most of her budget. After the fifth time walking by my table she had decided to get a "Jerrik and the Dragon" print. A very good choice indeed!

- A local animation student who, very confidently, went around all the tables introducing herself and talking about her interest in art and where her studies were taking her next. It's one thing to feel that your work inspires young artists but it's literally amazing when they take the time to tell you about it!

- And finally, a couple in their twenties were checking everything out on my table. Not interested enough that I felt anything I had to offer was their cup of tea but they did like the originality of the items on display. As they were about to move on, the girl pointed to one of my carved coasters and said:" Oh, cool! It's like the Gryffindor emblem!" Her boyfriend, nudged her and whispered: "That's the Nova Scotia flag!"
There were more, some bought a print, others left with a flyer. Every single person who took the time to look at my table made standing there for six hours worthwhile. 
Where from here?
After I got home and properly sat down for the first time since breakfast, my head was still full of the day's experiences. By taking a minute to look at my Creative Voyager's Map, I see that this portion sums it up rather well:
I stepped out of my Cabin of Comfort and was thrown to the Wolves. As I am careful enough not to settle at the Tower of Self-Contemplation, I head on forward in my journey to the Dark Forest of Obscure Wisdom, hoping to gain a little more knowledge that will give me the courage to face the Steep Mountain Pass!
Reflecting on the benefits of festivals, fairs and conventions like this one, I felt good about having had the guts to do it. The rewards were far more meaningful than what I imagined beforehand. It's what you hope for, but it's a different thing entirely to experience it.

With all this gained wisdom, I can sit back at my drawing board and plan the next part of my journey. As always, I thank you for being a part of it!
Cheers,
Wouter
__________________
Wouter F. Goedkoop is a designer, artist and storyteller who, after living across Europe decided to find his home in Nova Scotia where he lives with his wife and kids. He helps people and companies connect with their audience in meaningful ways by telling relevant and impactful stories.
---